What you need to know to decide between a Vancouver resale, pre-sale or new home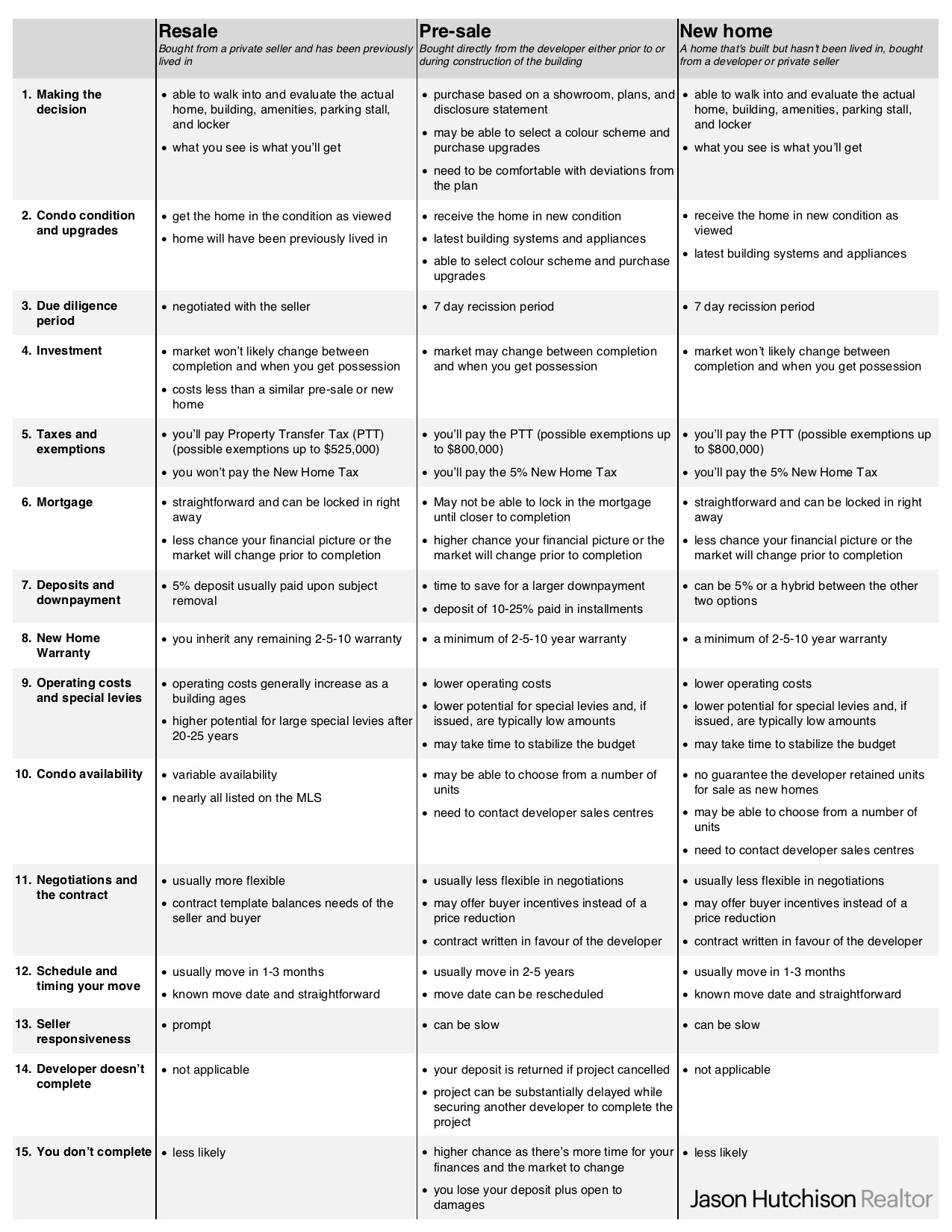 The quintessential picture of Vancouver shows residential towers rising from the oceanside and backdropped by the North Shore Mountains. Their importance to our city goes well beyond aesthetics as a 2016 survey found 62% of the total of 283,916 privately occupied homes were apartments (source: City of Vancouver). We'll increasingly rely upon multi-family living to achieve greater environmental and social sustainability. They also offer us greater affordability and vibrant walkable neighbourhoods.
Home buying is an exciting milestone as you get to define your next lifestyle. It's a large undertaking but knowing you're not in a race and taking a step-by-step approach will make your journey enjoyable. Spend the time needed to firmly understand the different neighbourhoods, buildings, and homes to eliminate doubt so you to be confident when you find the right home.
There're some ways to quickly focus your initial search. Condos can be variously categorized with ownership model, price, type, and age being common distinctions. The freehold condo ownership model takes centre stage. This is where you own your home plus a share of the common property including the land. Price can be separated between entry-level, mid-range, luxury, and ultra-luxury, whereas the type can reflect if it's an apartment, townhome, loft, or penthouse.
Image: 8X on the Park (link to listings), 1111 Richards Street, recently opened and there are new homes for sale by the developer as well as by private owners. The developer has additional homes for sale in this building that aren't on MLS.

Understanding the significant differences between condo ages can take more time as online searches yield a plethora of resources, many of which are outdated, inaccurate, or don't apply to Vancouver. Even decent resources, such as those from CMHC, often lack detail in an attempt to apply to a number of real estate markets. You need accurate information specific to your market.
If you've heard of someone being surprised by a substantial tax or other responsibility, they lacked adequate advice during their due diligence.
To get you started, this post reviews the following condo ages:
Resale home – A resale home has been lived in. You buy this home from a private seller (not a developer).
Pre-sale home – You buy this home from a developer either prior to or during building construction.
New home – A home that's built but hasn't been lived in. You may buy this home from a developer or private seller as illustrated by 8X on the Park seen below. This option straddles the divide between resale and pre-sale.
Although there are overlaps in audiences, I've focused this discussion on people buying a condo for their own home. If you're within that cohort, the best route forward results from interlocking your:
risk tolerance,
financial picture,
preferred condition of home, and
preferred move date.
I realize that reading a lengthy post is probably not high on your To Do list so have summarized the considerations in the header image. The subsequent sections go into greater detail and I welcome your questions and comments (direct: 604.314.7138, [email protected]).
---
Certainty in selecting the right home
1. Making the decision
When I started real estate around 2010, people tended to live in a condo for around 8-10 years before moving to another home. The rise in real estate prices has made upgrading homes more challenging and, anecdotally, I'd say we're now leaning towards a 9-13 year planning horizon. This is a considerable amount of time.
Correcting a mistake in real estate is costly in money and time. Ideally, you can carefully review the neighbourhood, building, and condo to ensure they intersect at your target lifestyle.
This is where resale and new homes have a major advantage over pre-sale homes. You can walk into the actual home and experience the flow of its layout, light levels, ambient noise, and quality of construction. You can also view the building and amenities such as a fitness centre as well as the parking stall and locker that would be yours.
In buying a pre-sale, you'll be sitting at a table in their showroom pouring over a floorplan and viewing a discombobulated model instead of walking through the actual home. While most outcomes are fine, more than once I've seen where the glossy brochures didn't well translate into the finished product. In selecting a pre-sale home, you need to be comfortable with the potential deviations from the plan.
Each development is different so closely review the contract and disclosure statements to get a sense of what may change. Fairly standard allowances include:
the delivery date can be delayed, often repeatedly
the size of the condo may change
the floorplan may change
the appliances may change
ceiling heights can change and there may be bulkheads you didn't anticipate
lights, sprinkler heads, heaters, electrical outlets may not be where you thought they'd be located
you may not get to pick your exact parking stall or locker
building features may change, including amenities
While some things may change, the overarching premise is that you'll receive a home of equivalent quality to that promised. If a change is severe enough to allow you to back out of the contract can be a matter of debate with the developer.
2. Condo condition and upgrades
A pre-sale will offer you the latest building systems and appliances. You may be able to select from 2-3 different colour schemes, usually light and dark options but with more expensive sounding names. They may also offer upgrades like automatic blinds, higher-quality flooring, surround sound systems, security system, or an electric car charger. The costs are not insignificant and may be similar to doing a similar upgrade to a resale home.
It's what you see is what you get in terms of resale. The condition can range from move-in ready through to 'bring your imagination' for a full renovation. You should receive the condo in a similar condition to when you viewed it minus the furnishings and cleaned. Some sellers will agree to making minor repairs. However, you may want to make any involved repairs or upgrades yourself so they'll be exactly as you want them.
A new home offers all the advantages of a resale coupled with the brand new condition of a pre-sale. The colour scheme and any upgrades will probably already be installed.
While renovations are usually associated with resale homes, when you get your keys for a new building, they may still be completing construction and/or dealing with deficiencies. Inconveniences may include noise, dust, tradespeople, and busy elevators.
3. Due diligence period
With a pre-sale and new home purchased from a developer, you'll have 7 days in which you can back out of the contract. This rescission period provides time for you to ruminate on the purchase and complete any outstanding due diligence. You may or may not have the same in your resale contract.
The typical due diligence (read more) in resale contracts are reviewing strata documents, having a property inspection, and finalizing your mortgage. If you have any of these subject clauses in your contract, you'll also have a date by which you need to have them completed. This is usually no more than 7 days. The due diligence and associated deadline in your contract is a function of your needs and negotiations with the seller.
If you're competing against other buyers for a resale home, it may be worthwhile to complete your due diligence ahead of submitting your offer to make your offer more attractive to the seller. People often equate a subject-free offer to greater risk but that's not the case if you do your due diligence ahead of submitting your offer. Yes, it'll mean more work, particularly if you have to do it more than once but it's likely your strongest option.
The BC Provincial Government is currently considering a number of changes to the resale market including mandating a due diligence period. It's anticipated that any changes will take effect spring 2022.
---
Financial considerations
4. Investment
What will the market do?
All market housing experiences highs and lows and condos aren't an exemption. Adding complexity is that we'll have a number of markets going on in Vancouver at any one time, each with its own set of drivers. While condo market activity can reflect age, it's more frequently separated by price point. It's even common for different price points in the same building to behave differently. For instance, a 1 bedroom unit on a lower floor may sell faster than a 3 bedroom sub-penthouse or vice versa. Furthermore, higher value properties tend to oscillate more in price as they have more room to do so.
Nobody can predict Vancouver's real estate market performance. It's likely better to focus on which home will suit your lifestyle over the long-term as moving fees eat into your profit.
You're in good company if you've ever misjudged market performance as even developers with extensive resources can be caught by surprise. We see this played out when a much hyped new project suddenly goes dark. They probably got caught by a market drop and the project will resurface when the market strengthens.
What has the market done?
We can look back at what the market has done with greater certainty. As an example, the below graph is of MLS sales data for 2 bedroom apartments across Vancouver. While I believe the resale data to be robust, the new construction line is best employed to gain a gut feeling of performance as developers don't list the majority of their units on MLS and sometimes bake buyer incentives into the sales price to inflate it.
Another consideration is comparing apples to apples. For instance, the resale data includes all ages of apartments while new construction is 0 years old. It's unlikely that you'll be considering a pre-sale versus a 40 year old resale home. There are other datasets but each has its own limitations.
That said, I believe the graph does support a couple of market understandings. A pre-sale and new home will cost more than resale properties, even before accounting for the New Home Tax. And secondly, all condo values fluctuate but trend upwards over the long-term.
Median sale prices of new construction and resale 2 bedroom apartments in Vancouver (12 month rolling average of MLS data).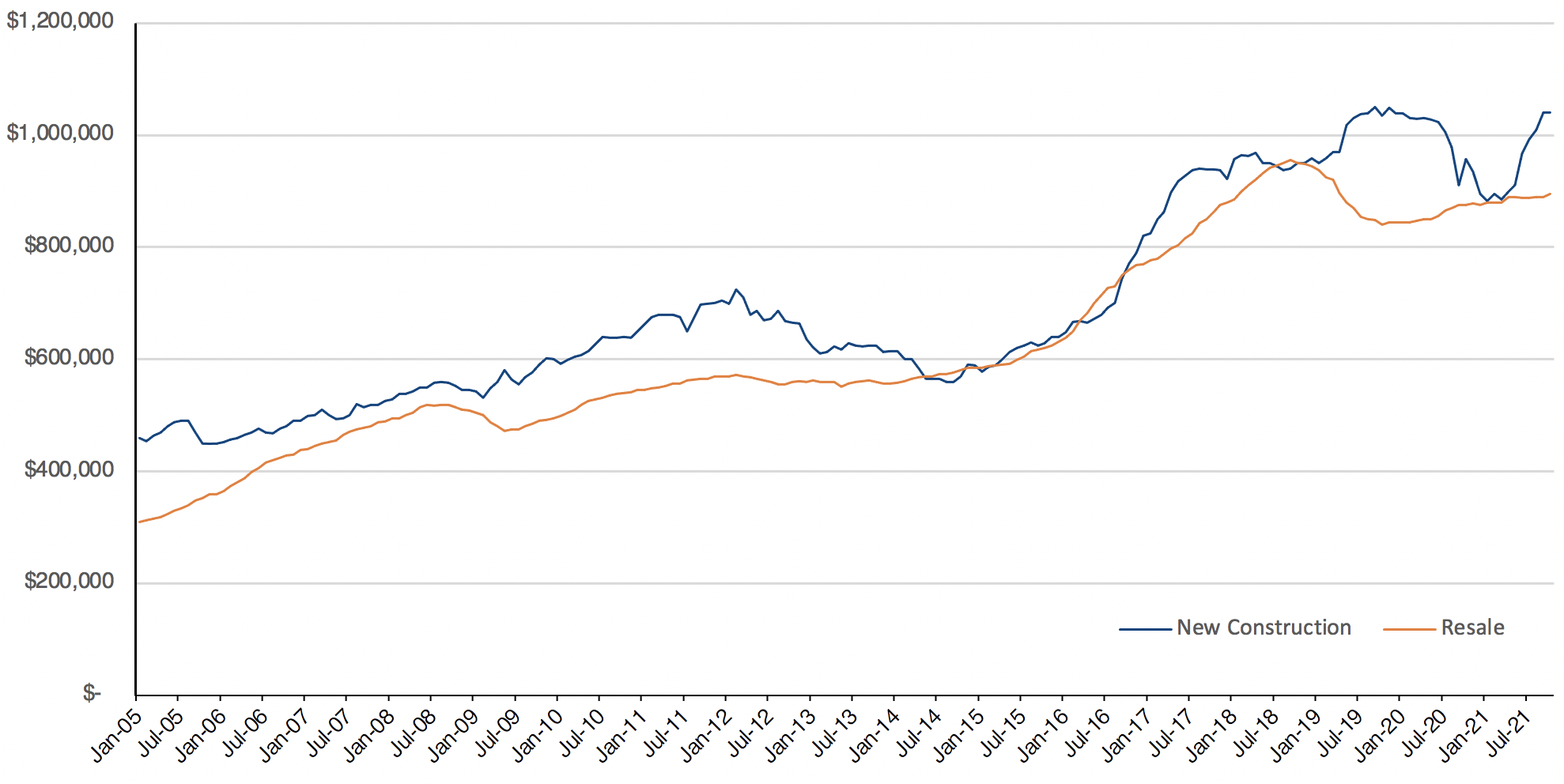 Misconceptions
While touched upon above, I'll take the opportunity to further resolve two common misconceptions.
Misconception 1: Pre-sale condos cost less
More than once a client has said that, as they can't afford the resale condo they want, they'll resort to buying a pre-sale to save money. Cue the disappointing news… in Vancouver, the newer the condo, the higher its price. I believe Vancouverites gain this misconception via two ways: 1) reading inaccurate articles or those about other markets, or 2) comparing the pre-sale price to condo values once a building opens 2-5 years later (more on this in misconception 2).
To determine the true cost differential, you need to compare the current pre-sale versus resale prices specifically for the home you're seeking.
I've seen where people will say a pre-sale will cost 10% to 20% more than a resale. I understand the reasoning but it brings to mind numerous exceptions. It's best for you to confirm pricing based upon your goals and current market conditions. Remember that, not only will a pre-sale have a higher price tag, you'll likely have to pay the New Home Tax on top of it. This tax is no small sum (e.g $50,000 on a $1m purchase) and will ruin your day if you weren't prepared for it.
Misconception 2: Pre-sale condos always come out ahead
A lot of things can happen to a real estate market in the years between when you buy a pre-sale and the building opens. In the Vancouver market, that time has usually resulted in appreciation so some people believe it's always the case. However, some buildings have opened at a loss.
The following two contrasting scenarios refer to this graph.
Median sale prices of new construction 2 bedroom apartments in Vancouver (12 month rolling average of MLS data).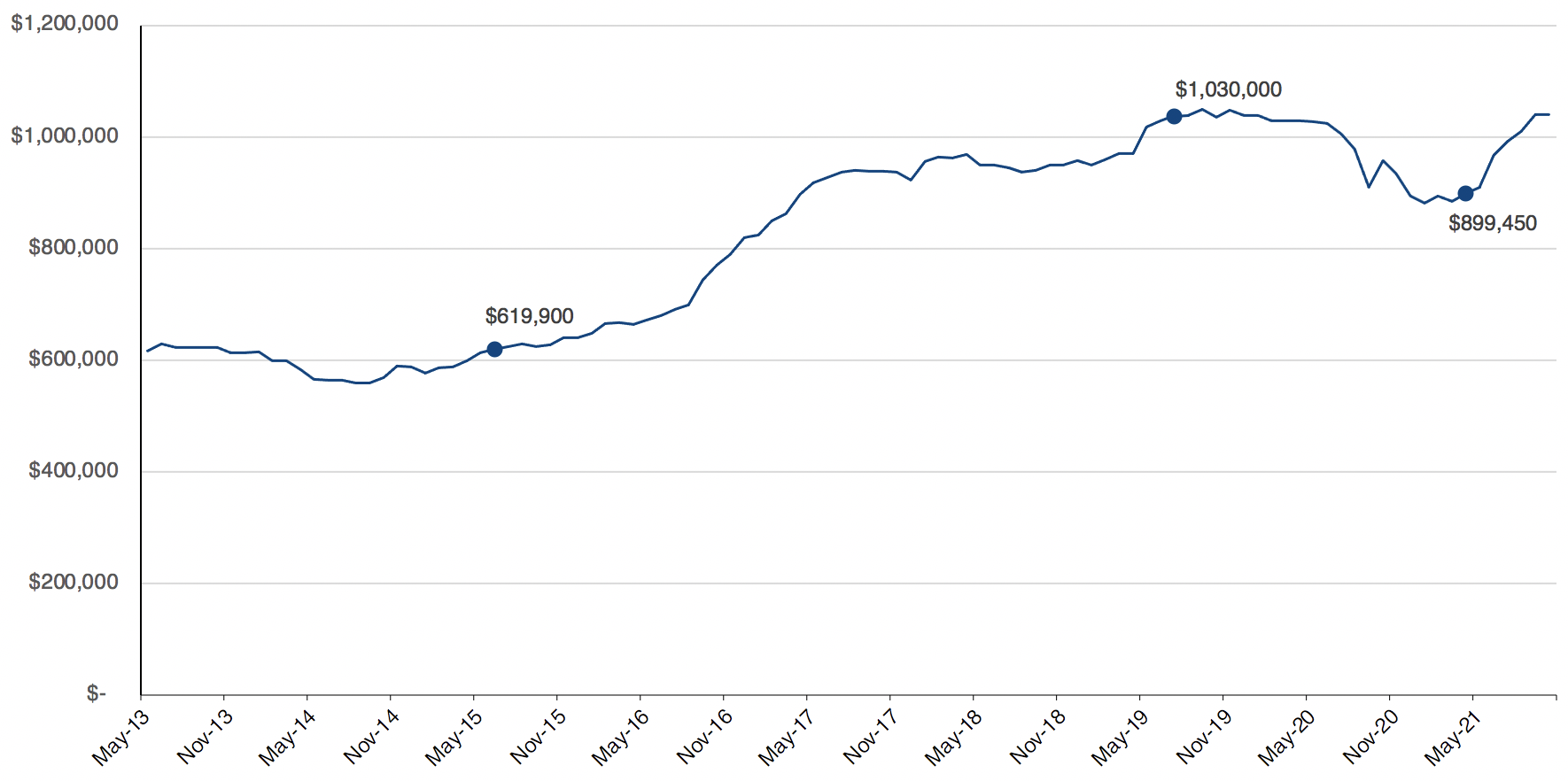 Good news scenario – Say you purchased a 2 bedroom pre-sale condo for $619,900 in June 2015 and you got the keys in June 2019. The market climbed over that time and your condo is now worth approximately $1,030,000, equating to a gain of around $410,000 (hello housing crisis). When you get the keys, it'll have been a stellar investment.
As a real world example, the people that bought in the soon-to-be-completed One Burrard Place (link to pictures, details, floorplans, listings) will be pleased as they've made a sizeable profit since their purchase in 2015.
Less than good news scenario – As with any investment, you need to be prepared for the very real possibility for the reverse to happen. Using the same data set, say you bought in June 2019 for $1,030,000 and unlocked your front door for the first time in May 2021. Over that period, the market subsided and it was then worth $899,450. Your enthusiasm for your new home will be curtailed by the drop in value of $131,000. Compounding the pain is that it may trigger financing issues as discussed in the mortgage section below.
People who bought pre-sales in the Patina (link to pictures, details, floorplans, listings) and the Fairmont Pacific Rim (link to pictures, details, floorplans, listings) understand this as it took several years after these buildings opened before they saw a profit.
5. Taxes and exemptions
The taxes and exemptions are similar between the condo ages with the exception of the Property Transfer Tax and New Home Tax. Your lawyer will charge any taxes payable at time of completion.
If there's any doubt as to whether you'll pay a certain tax, check with your lawyer prior to buying.
A quick email to your lawyer during your due diligence provides certainty and peace of mind.
Property Transfer Tax
Your purchase is subject to the BC Property Transfer Tax (PTT) unless you qualify for an exemption. The tax is calculated as follows:
1% of the fair market value up to and including $200,000
2% of the fair market value greater than $200,000 and up to and including $2,000,000
3% of the fair market value greater than $2,000,000 and up to and including $3,000,000
5% of the fair market value greater than $3,000,000
If your resale purchase is subject to PTT, you may qualify for the First Time Home Buyers' Program. This exempts you from paying PTT on resale homes up to $500,000. You may also qualify for a diminishing exemption from $500,000 until paying the full amount of PTT at $525,000.
In buying a pre-sale and new home, you may qualify for the Newly Built Home Exemption. Such purchases are fully exempt up to $750,000 with a further potential diminishing exemption of up to $800,000.
Additional Property Transfer Tax (Foreign Buyer Tax) – If you're a foreign buyer, you'll pay an additional 20% of the purchase price on top of the amounts shown above.
New Home Tax
If you're buying a pre-sale or new home, you'll pay the New Home Tax (GST) of 5%. For example, the tax will be $50,000 on a $1m home. This is paid upon completion and in addition to other costs including the Property Transfer Tax. If you're buying a home that hasn't been lived in, it's best to spell out in your contract whether you're paying the GST.
A 5% New Home Tax will apply to pre-sales, new homes, and substantially renovated resale homes.
A GST rebate equivalent to 36% of the GST paid is available for new homes priced up to $350,000 and then a partial rebate on new homes priced up to $450,000. If you chuckled at these amounts, you're aware that this is of little use in the Vancouver real estate market.
The New Home Tax doesn't apply to resale properties with one exception. If the home is substantially renovated, it may be considered a new home for the purposes of this tax. There are a couple ways to calculate the degree to which a home has been renovated but the common threshold requires at least 90% of the home to be replaced for the tax to apply. If you walk into a 30 year old property listed as having been renovated right down to the studs, I suggest part of your due diligence should be to confirm with your lawyer if you'll pay the tax.
6. Mortgage
A resale or new home purchase is straightforward as you typically finalize your mortgage during your due diligence. to lock-in your terms and conditions. The chances for a major changes in your financial picture are minimal given the short time between purchase and completion. It's fast, straightforward, and easy.
In the time between your purchase and completion, your personal circumstances or the markets may change.
The long span of time between purchase and receiving your keys means buying a pre-sale is more complex and riskier. Your mortgage is finalized just before completion and some of your terms and conditions may not be locked-in until then. Part of your due diligence is reviewing the variety of outcomes with your lender to ensure you're confident with the various options.
It's a good idea to review the following scenarios with your mortgage professional before committing to the purchase:
What if you are relying upon the equity in your current home to afford your pre-sale and its value dropped?
What if the value of the pre-sale dropped?
What if both your current home and the pre-sale have appreciably declined in value?
Do you have a back-up plan should your financial picture evolve? A change in your family size, a new career, or buying a car are quick ways to impact your downpayment and ability to pay mortgage payments.
Are there any mortgage terms and conditions that may change? If so, what would be the repercussions?
The end game is confirming that you'll still qualify for a mortgage and be able to comfortably afford the mortgage payments.
7. Deposits and downpayment
Given the dramatic changes in schedule, this is another major departure from one another. In buying a resale home, you'll pay approximately 5% of the purchase price as a deposit once you remove subjects and commit to the purchase. The balance of your downpayment is paid upon completion, which is usually 1-3 months later. The deposit structure for a new home will vary by development but will more closely resemble a resale than a pre-sale purchase.
Comparison between example resale and new home versus pre-sale schedules.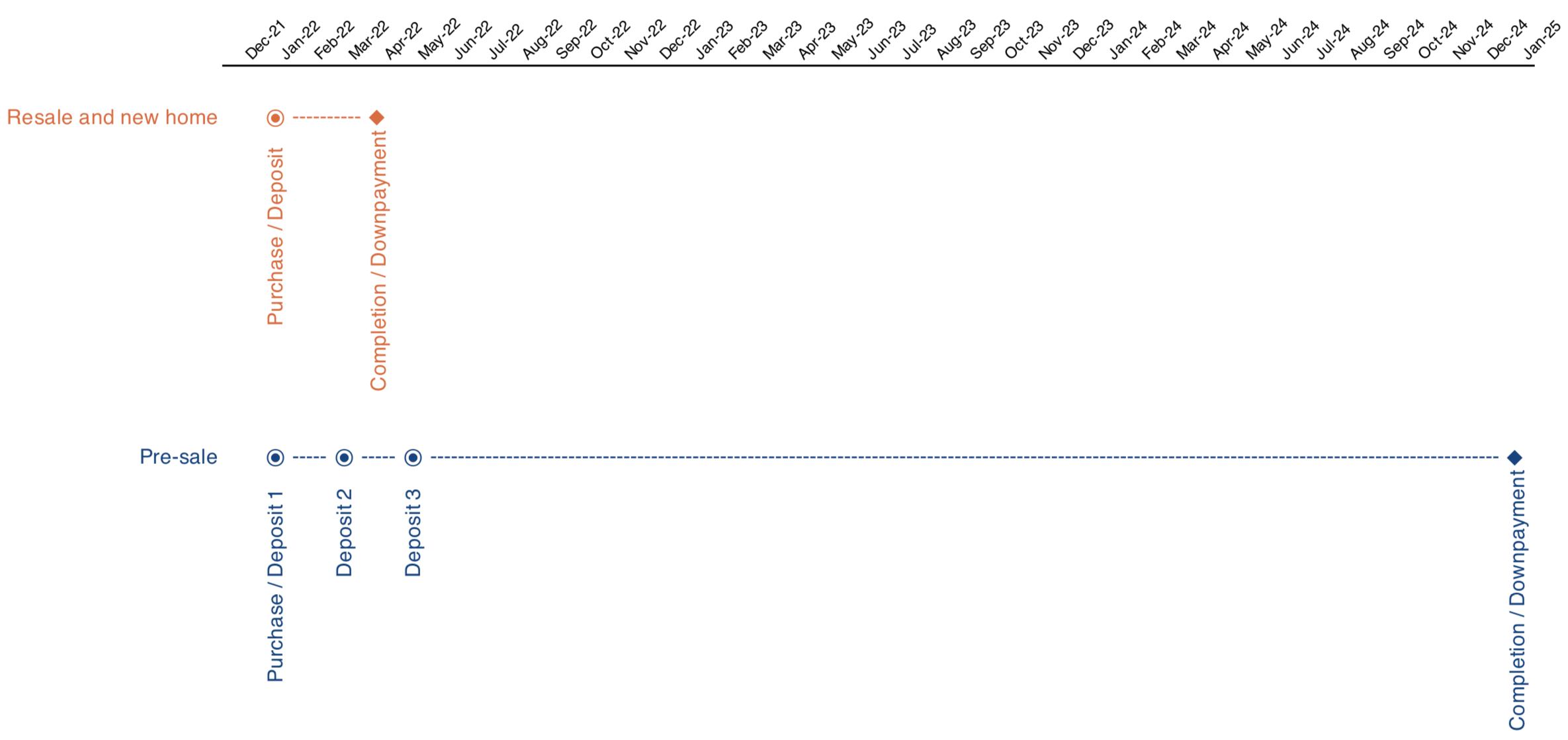 The pre-sale deposit amounts vary but are generally in the 10%-25% range. This can accumulate to a significant amount of money tied-up over the course of construction. The deposit is often paid in stages with a small amount due upon submitting your offer, another instalment once the 7 day rescission period (time that you have to back out of the deal) has lapsed, and another 1 or 2 payments some months later. The balance of your downpayment is paid shortly before you get your keys.
Some buyers appreciate this longer timeframe to save a larger downpayment. This is fine but be confident that you can have the minimum required downpayment. For instance, if you just started a new job with a higher salary, how confident are you in your job security or being able to get the same salary elsewhere?
8. New Home Warranty
Pre-sale and new homes offer owners peace of mind via a New Home Warranty. The minimum durations for building components are below:
Materials and labour warranty (2 years)
Building envelope warranty (5 years)
Building structural warranty (10 years)
Any remaining warranty transfers to the new owner. For instance, if you purchase a 6 year old resale condo, the first two warranties will have lapsed but you will have 4 years remaining on the structural components.
Please refer to this previous post (link). for a more in-depth review.
9. Operating costs and special levies
The costs to operate a building generally rise as a building ages. Buildings start to hit major maintenance and repairs at around 20-25 years old. This is when you have greater potential for substantial special levies. This is money paid by owners in addition to their monthly maintenance fees. Read further on how maintenance and repairs are financed (link).
Partial table of monthly maintenance fees. Here's the link to the full review.


The disclosure documents you'll receive when purchasing a pre-sale or new home will include a first annual operating budget and specify the seed money the developer will add to the contingency reserve fund. If I were to guess whether such a budget would be too low or too high, I'd put my money on it being too low. Over the first few years the budget can fluctuate as owners put in place their preferred service providers and perform any updates they'd like to do.
Online resources may suggest that you're free and clear of any special assessments in buying a pre-sale or new home. Not so. While less likely, I have seen new buildings issue special levies to cover shortfalls in their annual operating budget and for building improvements. Upgrades have included security measures and replacing pumps with higher quality ones. Granted, these should be for smaller sums than when the major building systems require replacing starting around the 20-25 year mark.
To gain a robust picture of a building, investigate their monthly maintenance fees, what work has been done, what work is upcoming, the size of their contingency reserve fund, and how they plan to finance upcoming work. This previous post outlines how to review a resale condos finances (link).
---
Buying processes
10. Condo availability
In strong markets, all 3 condo ages will be active and you'll be inundated by news stories about multiple offers and sales successes. As markets slow, you'll see the number of resale listings climb and sales drop. Pre-sale buildings may postpone their launch for when the market strengthens. Those already underway may offer buyer incentives or the developer may retain some units to sell later. There's no guarantee that the developer retained units to sell as new homes but a healthy number of original buyers usually list their units for sale once a building opens.
In terms of finding available listings, finding resale listings is the easiest as the vast majority are on the Multiple Listing Service (MLS). All real estate websites draw from the MLS. A developer usually places a handful of units on MLS but sells the majority without using the service. You have to connect with the developer's sales team to see all the homes available to you.
11. Negotiations and the contract
The strength of the market dictates the willingness of a private seller and a developer to negotiate on price. You'll likely find that developers are firmer in their negotiations and may not even entertain counteroffers, particularly in busy markets. If developers deem buyer enticements necessary, they often prefer to offer free upgrades (appliances, flooring, parking stall, or a locker), a decorating allowance, a more lenient deposit structure, or paying the New Home Tax. This allows them to list the sale of the condo at full price.
The Contract of Purchase and Sale that you and the seller will sign for a resale is intended to be balanced between the needs of both parties. Each developer uses their own contract that's invariably weighted in their favour. Make sure you understand the contract as well as the disclosure statement(s).
12. Schedule and timing your move-in
There's usually 1-3 months between the time you purchase a resale or new home and move into it. It's straightforward and quick. Accordingly, it's more likely to be able to coordinate a seamless move so you're not in-between homes or carrying two mortgages.
The time between purchase and move-in for pre-sales is measured in years (2-5 years is common) so has much more uncertainty. There can be delays due to the gaining municipal permits, the supply-chain, design, and construction. It's not uncommon for a move-in date to be delayed multiple times, equating to a delay of months or even more than a year.
Pre-sales can also have a hair trigger when it comes to requiring completion. A contract a client currently has specifies that the developer can require him to complete with as few as 7 days notice. Although we anticipate/hope he'll have more time, we've already done his due diligence so he's ready to quickly complete if required. If you require financing and/or are selling a property, it's a good idea to know your options for every outcome.
13. Seller responsiveness
I can nearly guarantee that a resale seller will be more responsive than a developer. This is particularly true after you've committed to the purchase. A client of mine has committed to buying 1 condo in a project with 375 units, which is just one of the developer's many projects. At the end of the day this isn't a major consideration but, trust me, you'll need more patience when dealing with a developer.
---
Risk in not completing
14. Developer doesn't complete
As resale and new homes are already built, this is only a concern for pre-sales. Despite best intentions, there are times when the original developer doesn't complete the project. A project may be cancelled prior to construction, for instance, if they fail to sell enough condos to gain their project financing. Projects can also be hit with issues such as a change in market conditions or cost overruns once construction has begun. If the project is terminated, you'll receive any deposits you've made.
While most developments proceed to completion, a greatly delayed or cancelled project can mean disappointment, a loss of time, and possibly a financial issue.
If they do hit a wall, hopefully the project will be taken over and brought to completion by another developer. The Pappajohn family of Vancouver began Jameson House, 838 West Hastings (info, floorplans, listings) but experienced financial challenges when high excavation and restoration costs coincided with the 2008 recession. They were able to sell the project to another Vancouver development dynasty, the Bosa family, so it was completed and buyers were able to move in.
The excavation for Jameson House was complex as it was between 2 existing buildings plus an entire building and a façade of another (both shown on the left) had to be suspended while excavating and installing the parkade beneath them.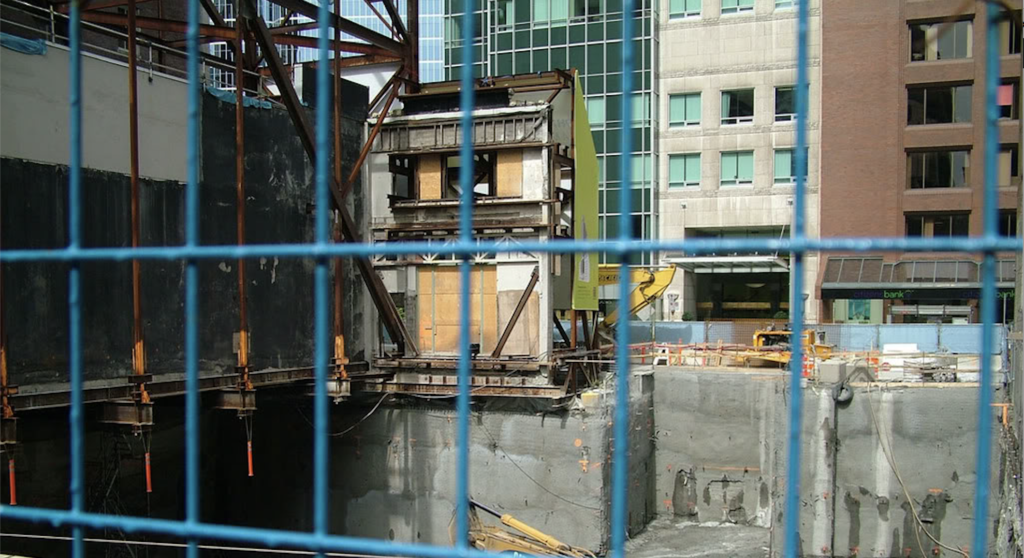 There are times when the delay is so extensive that the buyers want to cancel their contracts. The Residences at Hotel Georgia (link to article) hit a dramatic snag when explorations found a lack of reinforcing in the existing hotel and caused a substantial delay.
Recently, buyers in the gorgeous design by Shigeru Ban Architects, Terrace House (link) received news that the project will be taken over by other developers after being hit by financial issues. It's bittersweet as they bought about 4 years ago and they're still years away from getting their keys. Also, there was uncertainty as to whether the new developer would honour all of the buyer contracts.
You can't be certain that a project will complete in a timely manner but you can get a sense of it with appropriate due diligence. Questions to ask include:
Does the developer have experience with similar projects?
How many units has the developer sold in this project?
What are the general market conditions?
15. You don't complete
As the contract is written by the developer's lawyers, it's no surprise that the repercussions for you not completing are higher than for the developer not completing. If you miss a payment or a deadline, they can likely terminate the contract, retain your deposit, and sell the unit to another buyer. It's also likely that they can pursue you for additional costs such as marketing commissions, financing costs, and any loss in value when they resell the unit. Don't believe the developer will be lenient as they don't have to be as per the contract.
To avoid issues, be aware of your obligations and the schedule under the contract. Pay particular attention to the dates and amounts of deposit payments. It's a good idea to complete your obligations ahead of schedule in case an issue arises. Also, be prepared for the worst case scenario as outlined in your contract. It's not uncommon for contracts to allow for as little as a matter of days notice of your completion date. To prepare, ask yourself whether you have the balance of your downpayment liquid and if your lender is prepared.
If you're seeking to back out of a purchase, you need to review the contract you signed. The Real Estate Development Marketing Act may also offer a way out of your contract such as whether you received all disclosures in a timely manner (link) or whether the finished home is sufficiently different from that promised. At this point is when a lawyer is involved to review the contract, disclosures, and Remedies are outlined in REDMA.
If you encounter an issue, you can explore whether you can bring in a co-buyer such as a family member. The bank of Mom and Dad is a major lender in Vancouver. You can also explore whether you can sell your contract to another buyer via an assignment. You need to gain the approval of the developer to do so and they can impose conditions such as a fee. If they do allow assignments, they'll usually do so once they've sold all the units in the development so your listing doesn't compete with their sales. This may prove to be an issue if they don't sell all their units prior to completion.
If you read the entire thing, thanks very much. I hope it helped you chose the right option for you. Feel free to reach out with any questions.
Best,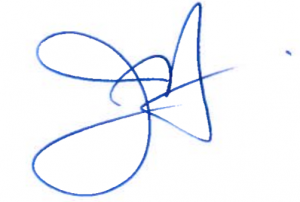 Jason Hutchison
604.314.7138    [email protected]
Looking for more blog posts?