Think Vancouver architecture is boring? Let's see if 3 designs by Pritzker winners change your mind.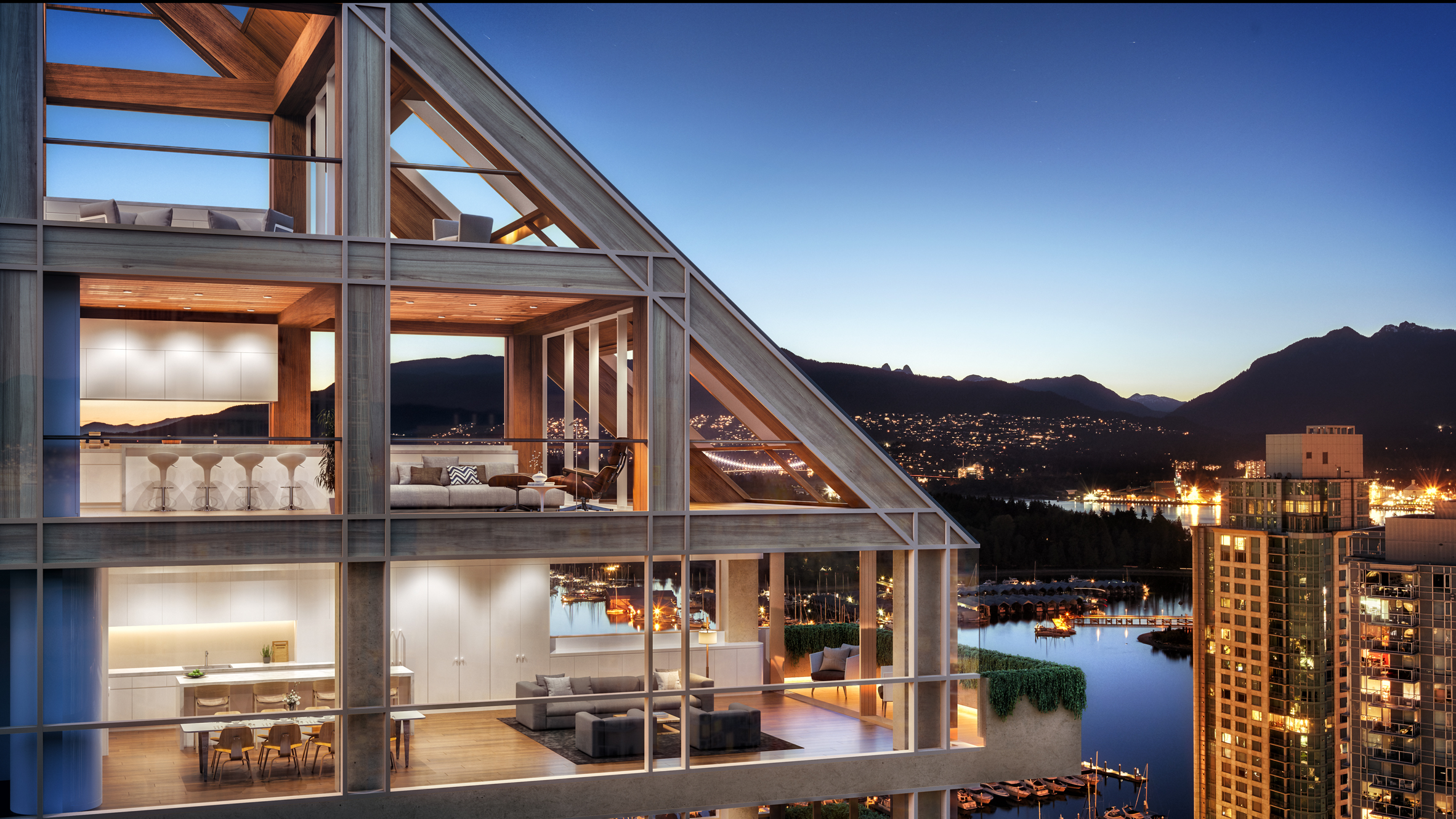 We often hear people lament the uniformity of Vancouver architecture and, on the surface, the statement bears some truth. There's no doubt that Douglas Coupland didn't idly entitle his book on Vancouver's idiosyncrasies City of Glass. A collection of pressures coalesced to where that title encapsulated our city, not least of which was the very rational goal of better connecting our homes with the phenomenal mountains, forests, and water. This uniformity was amplified by a small number of architects contributing a large number of local designs and, I'm sure, City Hall wasn't left out of the game.
If a city were filled with designs of even the most accomplished architect on earth, at first glance, it'd feel uninspired. Looking at a recent arrival to Vancouver as an example, if presented with a pixelated façade, smart money is on it being the work of Bjarke Ingles. While remarkable when interspersed amongst complementary yet different architecture, a city with a plethora of such designs may have you begging someone to adjust the TV set antennae.
In delving deeper into Vancouver architecture I believe your appreciation will flourish as some designs that people tend to initially overlook feature significant innovations such as having craftily resolved site limitations, created significant public realm, rescued a heritage component, or employed leading engineering (recently including taller wood construction). We can be proud that Vancouver has been emulated around the world for its leadership in liveability. Most widely known is the tower and podium building typology first explored by James Cheng in the late 1980s and since undergone a number of reiterations.
Today, I like to think of Vancouver's skyline as predominantly solid architecture setting the stage for an increased sprinkling of more adventurous designs. The next 10 years will be exciting as we'll continue to watch the literal rise of gorgeous designs across the downtown peninsula and in other pockets of Vancouver. High on my list are Vancouver House, The Alberni, FifteenFifteen, The Butterfly, and the, I believe yet unnamed, undulating tower at Nelson and Thurlow.
I've been working with Trevor Boddy to showcase Vancouver's notable residential towers and some of our work can be found here. To try and woo the nonbeliever via this post, I'll highlight the subset of designs by Pritzker Architecture Prize recipients. This prize is no trivial acknowledgement as, in the world of architecture, it's akin to the Nobel Prize. As stated on pritzkerprize.com, it has been awarded to only one architecture practice each year since 1979…
'To honor a living architect or architects whose built work demonstrates a combination of those qualities of talent, vision, and commitment, which has produced consistent and significant contributions to humanity and the built environment through the art of architecture."
We're fortunate to have 3 designs in Vancouver by Pritzker recipients as shown below. The first development is completed, the second is under construction, and hopefully we'll soon see the last one progress to construction as it's a vital component of our city.
Jameson House
Architect: Foster + Partners (1999 Pritzker Prize)
Developer: Bosa Properties
Address: 838 West Hastings Street
Year: 2011
Details on this building can be found on its Featured Building page.
Terrace House
Architect: Shigeru Ban Architects (2014 Pritzker prize)
Developer: PortLiving
Address: 1250 West Hastings Street
Year: estimated 2020 completion
Images: portliving.com
An absolutely gorgeous design currently being nestled into Coal Harbour. Notable for beautifully complementing the adjacent Evergreen Building by Arthur Erickson; being the tallest wood/concrete hybrid structure once it culminates skyward; exacting construction processes; and optimizing the use of a challenging building site with upper floors being a mere 20′ width.
Aside: if ever a telenovela were to be made of a building, the Evergreen Building would be a great subject. The ample passion people feel for this building lead to lawsuits, protests, and, ultimately, its preservation.
Vancouver Art Gallery
Architect: Herzog & de Meuron (2001 Pritzker Prize)
Developer: TBD
Address: Cambie and West Georgia Streets
Year: TBD
Images: www.vanartgallery.bc.ca
Supporting the notion that architecture is art, this building design elicited as much discussion as the art it'll house. The gallery long ago outgrew its current location, which was originally built to house our courthouse. I'm thrilled to see a purpose-built development with a unique design that has elements connected to our Westcoast setting. I'm still mulling how a coliseum themed library fits into our lifestyle. With the Chan family's recent $40 million contribution, the gallery is closer to being a reality. Yes, it's the same family as that of the Chan Centre at UBC.
I hope you found this tweaked your interest in Vancouver's architecture. I welcome your questions and comments.
Best,

Jason Hutchison
604.314.7138    [email protected]
Looking for more blog posts?