The Butterfly
Address
1019 Nelson Street
---
Neighbourhood
West End
---
Year Built
Est. 2023
---
Developer
Westbank Projects
---
Architect
Bing Thom Architects
---
Interior Designer
Bing Thom Architects
---
Floors
57
---
Total number of residences
331
---
Sign up to get updates and new listings for The Butterfly
Introduction
The Butterfly for Westbank, next to First Baptist Church on Nelson Street, will be Bing Thom's last major building to be completed in the city he transformed and passionately loved. Because of its highly original layouts, its sense of public-mindedness, and its serene detailing and presence on the skyline, the Butterfly is a fitting, even flitting final work-hovering above, but not really of its surroundings.
Sometimes a powerful concept sketch and an underlying idea has more resonance than a table full of design consultant's reports. Such was so for the Butterly, which began with a sketch that Thom gave to Westbank founder Ian Gillespie showing a winged insect, confident but not conscious of its beauty. It worked. As this building site is very near downtown Vancouver's height of land, and because re-zoning and other land use controls had determined it would be one of the city's tallest buildings, a design that reduced its apparent bulk was essential, so Thom's choice of sketch and concept was anything but random or fanciful.
Turning the concept into built reality largely fell to project architect Venelin Kokalov, who since Thom's death has carried on as co-principal of the firm, renamed Revery Architects. Kokalov's breakthrough was to conceive of the tower as four cylinders bundled together around a central elevator/stair core. As each of these bundled cylinders would read individually under changing conditions of light, they would always have strong vertical shadows, lessening their visual weight-in other words, making the tower more butterfly-like.
Each of The Butterfly's cylinders is wrapped with undulating sine-waves of white spandrel panel and contrasting glass windows or balcony walls. This continuously-repeating detail on all sides furthers the visual sense of "flight with lightness." This sensibility is even brought to ground by sculpting the base of the building away, making the tower seem to barely touch terra firma, while it rises up through its entire 586 feet.
Each floor has breezeways that are open to the environment and offer expansive views, live vegetation in 'sky gardens', and communal furniture. Being airy, bright, and easily accessible, they are intended to encourage neighbourly interactions and greater enjoyment of the natural environment. They also contribute towards sustainability by negating the need for air conditioning and reducing artificial lighting in hallways.
The tower will be built concurrently with the revitalization of the First Baptist Church. The first 4 levels of the tower podium will be integrated with the church and serve the expansion of their social programs, including space for a daycare, a full-size gymnasium, multi-purpose rooms, a library, and offices. The amenities for the condo owners are on the 5th level and include a 50 metre lap pool, perhaps the longest in a Vancouver residential tower.
Bing Thom was a great believer in the importance of public space. Here it is along Nelson, providing space for the church to retain its heritage identity, the straightforward rental building to have its own presence, and a fine zone around the base of the tower for landscaping, sculpture and a needed opening in the West End urban landscape for residents, neighbours and church-goers to mingle.
Thom designed one of Vancouver's first tower on podium complexes at Nelson and Richards, and The Butterfly's small but finely-considered plaza is a direct inheritor of its ideas. City-building at its best combines grand gestures with fine-scale character, pride of identity with generosity of interaction. The Butterfly is the finest memorial Bing Thom could have wished.
SCHEMATIC: Design rationale for The Butterfly. (Source: Bing Thom Architects)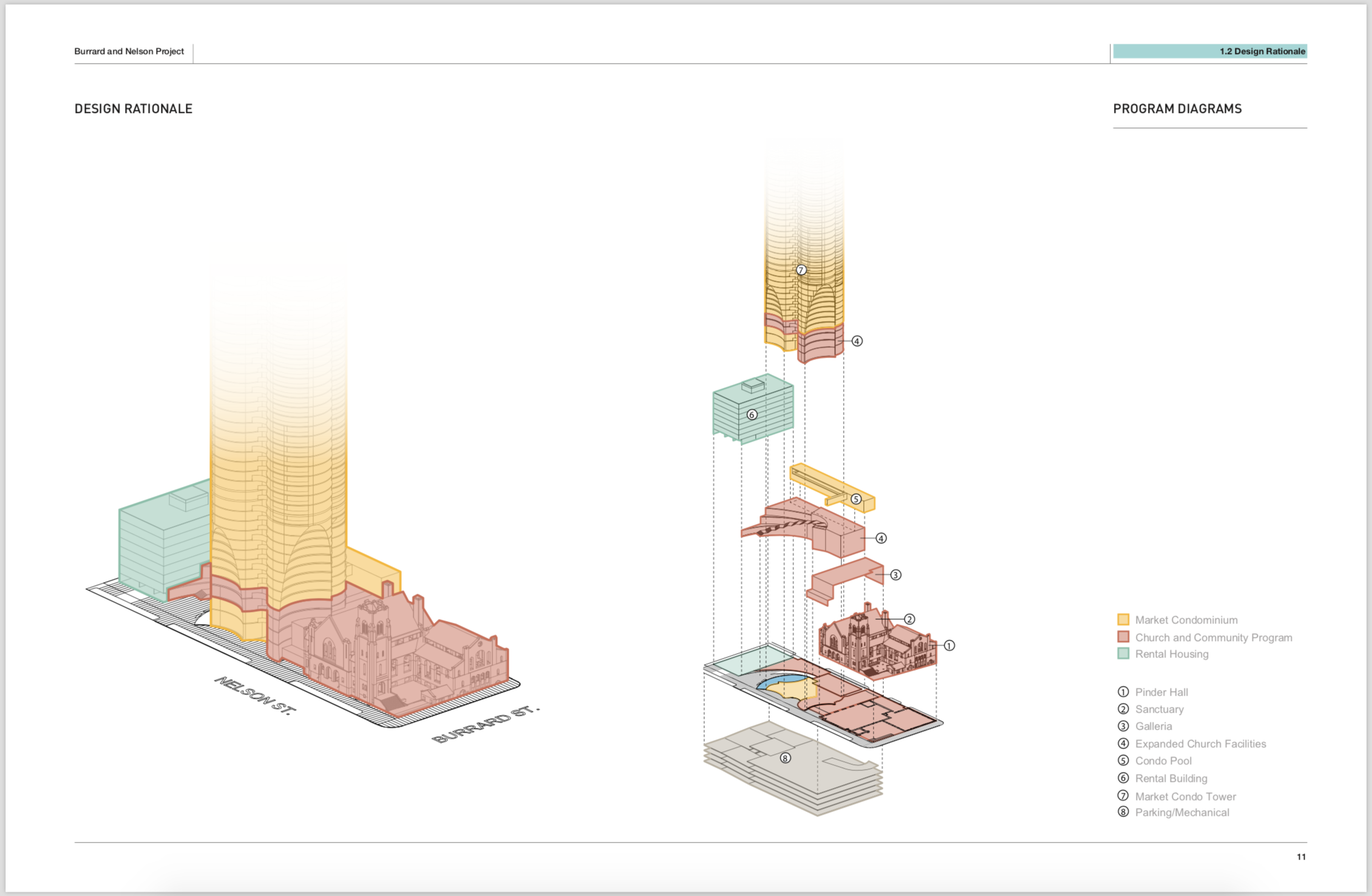 Amenities
indoor & outdoor lap pool / fitness centre / sauna / lounges / guest suite
Residences
Within the bundled cylinders, space-planning for the residential suites is clever. The most acute or limited curving zones are reserved for corners of balconies, suitable for plants in pots or storage. The radius of the curving walls of apartments is much larger than those in Jameson House's harbour-facing units (to site a local comparison), and because the curves are not as tight, they are easier to furnish and live in, while maintaining the visual quality of seeming larger than 'box' apartments of the same square footage.
The 57 level tower will have approximately 331 condos, 510 parking stalls, and 417 bike stalls. Condos begin on level 5 and complete with the penthouses. The tower has a solid showing of family sized homes, those 2 bedrooms and larger. The rezoning application 2017 update to City of Vancouver projected the following housing composition:
136 one bedroom condos (floors 5 to 39)
159 two bedroom condos (floors 5 through 52)
36 three plus bedroom condos (floors 40 through 57)
The graceful undulating theme evident on the building façade is mirrored within the residences. Some smaller floorplans lack outdoor space while some larger residences have a considerable amount of outdoor space.  The modern and clean residential interiors are projected to include:
Large scale matte white flooring throughout all living areas
Exterior walls lined with honed white pre-cast concrete walls with terrazzo finish interior
Curved glass wall separation between the living room and second bedroom
Custom designed, Italian crafted kitchen
Soft-closing precision cabinet drawers and doors with wood-reveal interiors
Custom designed kitchen island organically shaped with eucalyptus wood base and white matte solid surface countertops
Countertops, sinks, and backsplashes finished in white matte solid surface
Faucets finished as accent pieces in brushed brass (gold) or brushed stainless steel
Miele and Sub-zero kitchen appliance package
VIDEO: Short video presenting The Butterfly form and style.
Notable Features
First Baptist Church – the restoration of the church was included in the agreement to provide church land to a developer for the tower. It is one of Vancouver's oldest churches, dating back to 1911, and has a distinctive belfry tower and granite cladding as part of its Gothic Revival style. Its architects, Burke, Horwood and White, were based in Toronto and also designed the Hudson's Bay building in Vancouver.
This church and the St. Andrew's-Wesley Church across Nelson Street, frame one of the gateways to the West End. Both contribute to the number of grand heritage buildings lining Burrard Street, including the B.C. Electric Building, St. Paul's Hospital, and the YMCA.
Source: Canada's Historic Places
Financing neighbourhood amenities – this project is reminiscent of that for the nearby YMCA where, in exchange for renovating the YMCA, Concert Properties was able to build the Patina at 1028 Barclay Street. In both cases, the provision of the land for the construction of luxury condos financed the restoration and expansion of the nonprofit buildings.
Rental housing – while a good number of recent downtown projects have a rental and/or social housing component within the main tower, this project sees the construction of a separate 7 level rental building on the site. It will provide 61 rental homes, 20 of which will be market rental units and the remainder will be social housing.
Locals First Policy – this tower was one of the first to adhere to the City of Vancouver's locals first policy, an approved motion by City Council in October 2017. Accordingly, locals were granted priority right to purchase for at least 30 days prior to foreign buyers. Reportedly, over 90% of the units sold to locals.
Development Team
Westbank – the most prolific developer in Vancouver, their past local successes include the Fairmont Pacific Rim and Shanghai-La. While predominantly known for luxury buildings, they have demonstrated their social commitment through the redevelopment of Woodward's and smaller projects. Founded and still headquartered in Vancouver, the developer has expanded to other markets including Toronto and Asia.
Past luxury buildings have been sophisticated but with a comparatively conservative exterior. The Butterfly, along with a concurrent development, The Alberni, showcase Westbank's recent greater boldness and creativity in building form. This new vision has been supported by market conditions, and the receptiveness of Vancouver residents and City Council. Regardless of driving factors, the buildings themselves are most welcome contributions to Vancouver's skyline.
VIDEO: Origin of the design and, after 6 years of design work, the final theme and its contribution to the fabric of Vancouver.
Bing Thom Architects (BTA) – Designer of UBC's Chan Centre, Richmond's Aberdeen Mall and Surrey Central City, Bing Thom was Vancouver's most-lauded and respected architect when he died in 2016 at age 75. Thom studied under another local design legend, Arthur Erickson, before starting his firm in 1982 and growing it into an internationally recognized design firm. His 60 person design team focused on community buildings. Their international successes include Kowloon's Xiqu Centre for opera and Yuen Business School in Hong Kong. Through his professional work and community involvement he was made a Member of the Order of Canada in 1995.
Poetically, during the design of The Butterfly, BTA underwent its own transformation when Bing Thom passed away in 2016 and the practice emerged as Revery Architecture.
PHOTO: Xiqu Centre, Hong Kong
VIDEO: Thoughts on Bing Thom's legacy from colleagues and Westbank founder, Ian Gillespie.
Neighbourhood
This building is located near the centre of our downtown peninsula and is only a short walk into Downtown, Yaletown, and the heart of the West End. Pacific Centre is nearby on Robson Street and the UBC downtown campus is nearby for continuing studies. For suntanning, frisbee, summer farmers markets, and a dog off leash area, Nelson Park is a block away.
The Butterfly is the lead development on this block since the West End Community Plan was approved in November 2013. Once the Plan was released, Developers went on a shopping spree and purchased existing buildings on under-utilized lots throughout the West End with the intent of redeveloping them to their full potential.
There are other towers destined for this block as it is located within the zone along Burrard Street that received the highest pre-approved density in the West End Community Plan, specifically 550 feet. This is considerably higher than the existing tallest tower on the block, namely, the 415 foot tall Patina at 1028 Barclay Street.
You can walk to the following amenities in under 5 minutes:
Marketplace IGA
YMCA
Nelson Park
Scotiabank Theatre
Le Crocodile
Italian Kitchen
Fairmont Hotel Vancouver
Robson Street
Alberni Street
Hermes
Shoppers Drug Mart
Pharmasave
UBC Robson Square
St. Paul's Hospital
You can walk to the following amenities in 5-10 minutes:
Pacific Centre
Vogue Theatre
Vancouver Art Gallery
Black + Blue restaurant