10+1 questions to ask to select the right Vancouver realtor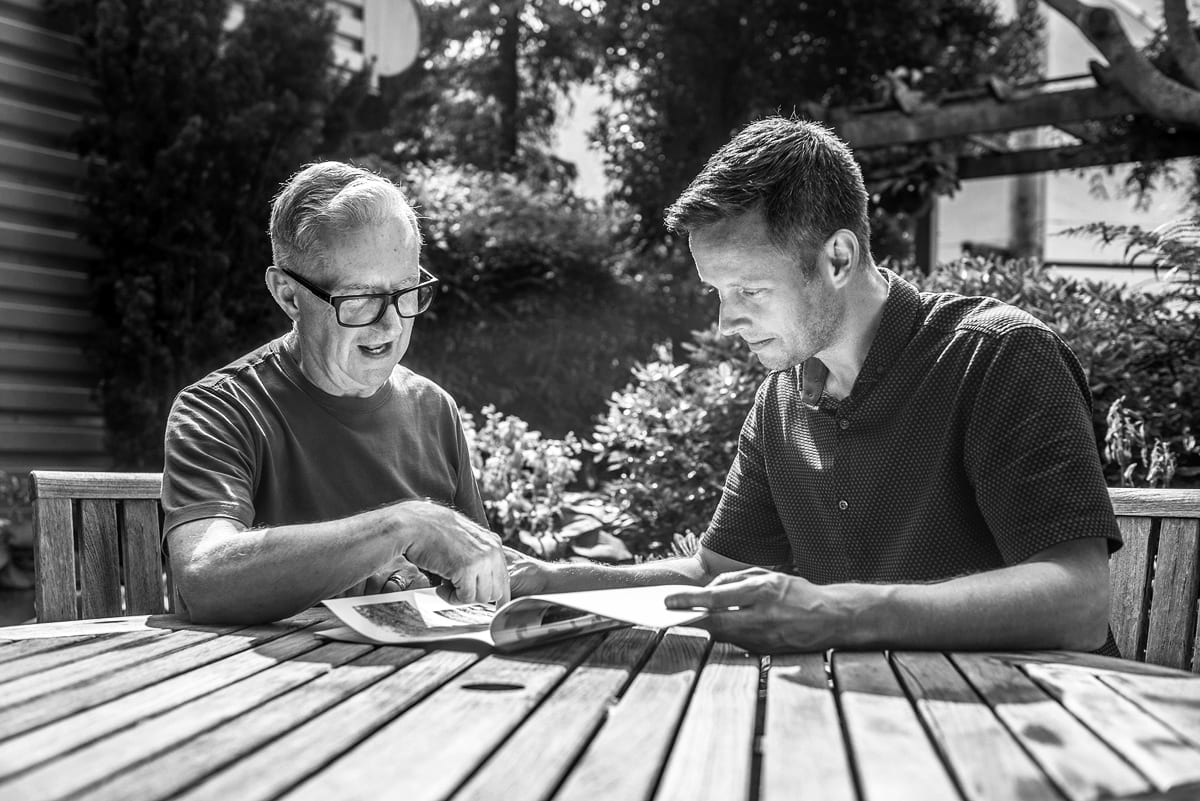 In transitioning from environmental consulting to real estate, I felt the dramatic drop in public opinion as if I had hit the hands-in-the-air moment on a roller coaster. A common path to realtor success has been to simply network, often at the expense of client service and innovation. This, along with lax licencing and enforcement, have contributed to realtors having a dismal 47% public approval rating. The reverse should be true as the higher commissions from higher housing costs should equate to continually improving service. Printed wall calendars and generic gift baskets should have died in the 1990s.
Thankfully, there are realtors who provide excellent service and contribute to improving our industry. Coupling this inside effort with clients, such as yourself, having higher expectations will lead to a bright future for the real estate profession, further shifting realtors from salespeople to professional advisors.
Imagine having complete confidence in our real estate system and your choice in realtors was between a great one and a fantastic one.
Your first step in selecting the right realtor is to reflect on what level of service you're seeking. What tasks are you prepared to do and which ones do you want to offload to your realtor? If you're a busy professional looking to confidently hand-off as many tasks as possible to your realtor, you're seeking the full-service that I offer. If you prefer to do most of the work, a discount brokerage may be your best option.
I asked myself the following questions when I designed my services. They can also help you select the right realtor amongst the sea of over 14,000 licenced with the Real Estate Board of Greater Vancouver. I've intermingled examples for buyers and sellers so one article will convey the vital parts of both.
1. Who will I actually work with?
Will the main realtor sign you up as a client and then hand you off to junior people? Some teams have one person to sign you up, another person to answer the phone, another who does the showings, and yet another person who works with offers. Some realtors farm out their open houses to new realtors or leave keys with concierges and don't personally show the property.
In paying a sizeable commission, you should always work with the best, not assistants.
Expert personalized service is vital to an optimal result, which is why signing you up as a client is the one activity not delegated. If it's important for the realtor's business, you deserve it as well.
2. Do they know real estate and my neighbourhood, building, and market?
The right realtor needs to be an expert on the neighbourhood, buildings, and home type you're seeking. My niche is busy professionals such as lawyers, doctors, and business owners buying/selling condos in downtown Vancouver or nearby. If you approach me about a house in Port Moody, we'll chat about how I'm not best suited for that listing.
Selling and buying your home is one of the most important decisions of your lifetime and you deserve to work with the expert that best suits your goals.
One of the ways my passion for client service, condos, and city building benefits my clients is through my unique and comprehensive reviews for condo buildings in downtown Vancouver.
3. Will they be available?
Being a realtor should be treated as a profession, not a job. It requires full-time effort to keep on top of changes in regulations, practices, neighbourhoods, existing buildings, and planned buildings. We also need to be readily available to answer your questions as you go through the process.
Your realtor should be with you at each step, including viewings, open houses, and the inspection. 
If I were to do 200 deals a year, I can't fathom that allowing sufficient time to best serve each client. Even if I worked all 365 days of the year, that's approximately 1 deal every 2 days.
4. Do they have a system customized to my goals?
Most realtors have systems for themselves. The key is finding a realtor with a detailed system to guide you through the entire process. For example, instead of dumping a plethora of strata documents into your lap, I organize them and provide detailed suggestions on what to watch for in each document. I also review all the strata documents and provide my buyers a 50+ point written review.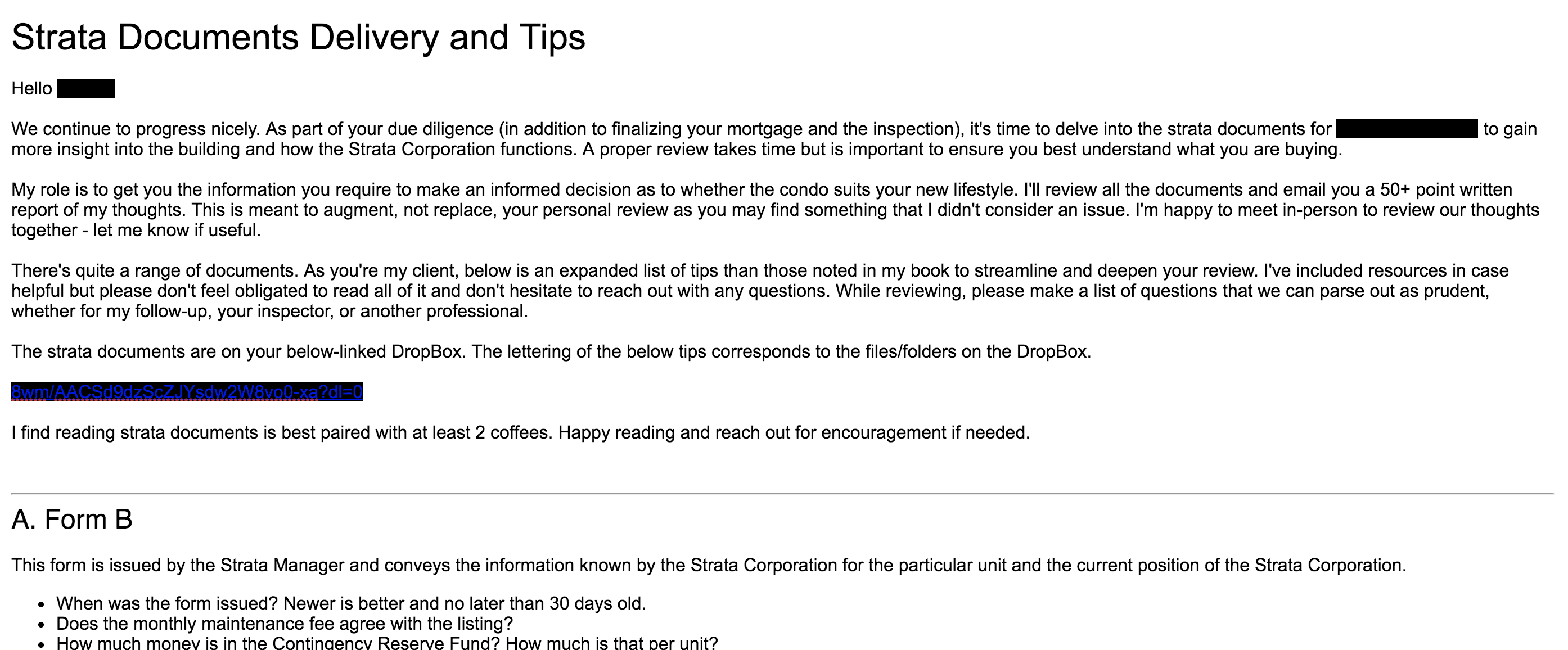 5. Do I enjoy spending time with them?
You'll spend much time together so make sure your personalities match. Last weekend I spent 4 hours with a client and it felt like half that time. That's the way it should be… enjoyable, relaxed, and productive.
6. How will they keep me informed?
Not knowing what's happening leads to unnecessary stress for you. Do they commit to providing you with progress updates when you want them? Will they promptly respond to your emails and messages? The "I didn't receive that email' game isn't fun.
7. Are their past clients happy with their services?
What do their past clients say about their experience? References should be regarding the same type of property and price point. Go beyond the testimonials and case studies on their websites and speak with one of their other past clients.
This can be as simple as asking them:
Did you enjoy working with them?
Do they know about the market, buildings, and condos?
What's something they should improve?
Would you work with them again?
8. Do they work cooperatively with other realtors?
The seller typically pays the commissions of both their and the buyer's realtors. The seller pays their realtor the total commission and, in turn, their realtor pays the buyer's realtor. Commissions are negotiable and there are no set rates. More often than not, what's considered a 'full' commission for the buyer's realtor would be 3.255% on the first $100,000 and 1.1625% on the balance of the condo purchase price. That's what I offer to not nickel and dime the buyer's realtor to keep more money in my pocket.
Some seller realtors offer reduced commissions and can reduce commissions if buyer's realtors don't attend all viewings (as seen in the below image). While I agree realtors should be at viewings, I certainly don't reduce the commission I pay to the buyer's realtor as I believe that puts my needs ahead of my client's.

Below is an excerpt of the section only seen by other realtors from one of my listings. I provide buyer's realtors my direct line and what's typically the full commission. They're also free to send their clients if they can't attend. I'm focused on selling the property in the best possible way, not doubling my commission. You should see this section of the listing for your property.

9. What is their marketing program?
Make sure you view the realtor's website, see examples of their marketing materials, and understand their marketing program to ensure they're professional quality. Help staging, professional photos, a video, a floorplan, posting on MLS, showings, and open houses are the absolute bare minimum you should receive. The higher the home value, the more extensive the marketing program.
With high commissions, your realtor should conduct an extensive marketing program, not simply post your property on MLS.
10. Is their brokerage respectable?
I'm guessing you've seen news reports about local brokerages that are below par. A quick Google search will show you (although one of the questionable firms recently rebranded) whether the firm has had more than its share of issues. A reputable brokerage helps ensure their realtors are acting appropriately, your deposit monies are responsibly handled, and your paperwork is correctly processed.
11. Do they help improve our real estate system and community?
We realtors make our living from our community, so I believe we should participate in its responsible development.
Imagine if all 14,000 realtors contributed to the responsible development of our community!
In hiring truly innovative realtors, our real estate system and services will improve. There are realtors doing excellent podcasts, volunteering to improve standards in our industry, and other innovations. I encourage you to work with a realtor that contributes to our real estate system or community.
If you're seeking full service, I welcome the opportunity to chat with you about how we'd work together to achieve your goals. If we're not the right match, I'll happily direct you to another realtor better suited to you.
Further information on my service:
How my services stack-up against typical service
Case studies and testimonials of past clients.
Please reach out via email ([email protected]), or phone or text (604-314-7138).
Best,

Jason Hutchison
604.314.7138    [email protected]
Looking for more blog posts?