8 options for renting your condo despite bylaw restrictions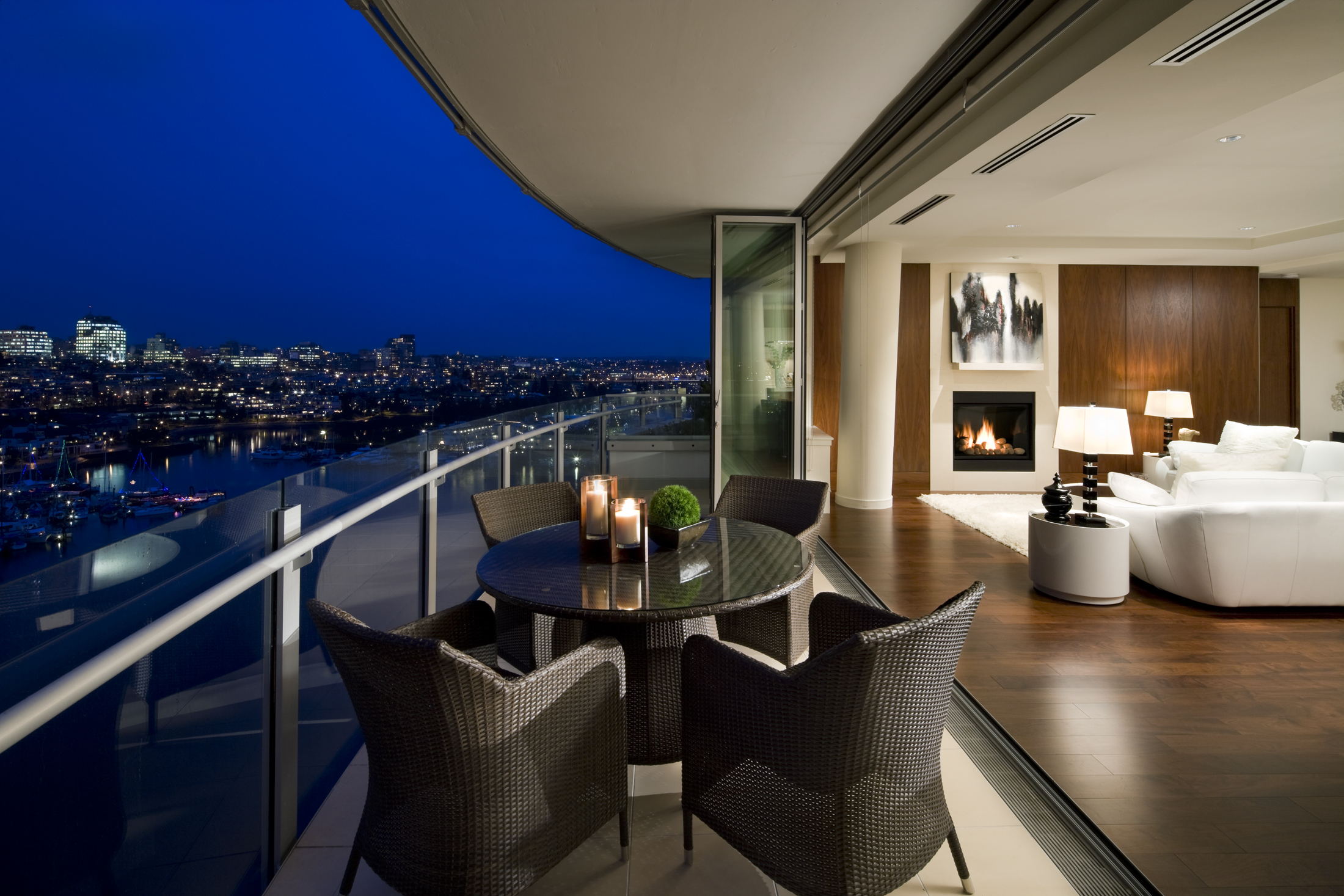 Many people think they've hit a brick wall when they see that the building bylaws prevent them from renting. This is understandable as the black and white nature of bylaws make them appear unavoidable. In practice, there're some lesser known rental options that adhere to the bylaws as well as legislative opportunities that override bylaws. It's a good idea to explore all possibilities to best inform your decision.
Instead of being viewed as ways to circumvent rental restrictions, these are better considered as legal options (except #8) available to everyone.
Your first step is to understand the rental bylaws for your Strata. The bylaws of interest to this post are those that prohibit rentals or limit the number of condos that can be rented at any one time (read about rental bylaws). A quick email to your Strata Manager should illuminate the rental requirements for your building, including any waitlist of owners wanting to rent out their condos. While there's probably no reason for concern, be mindful that the Strata Manager works for the Strata and not you directly. You should read the full set of bylaws to confirm what you learn and flesh out all of the rental requirements, for instance, the cost of move in/out fees.
If the bylaws indicate that you can rent out your condo, you should be good to go. When they indicate you can't do so, another set of potential pathways unfold from your personal circumstances, the BC Strata Property Act, and the BC Strata Property Regulation.
I've outlined 8 options below and welcome your questions. You can also consult with a lawyer experienced in strata management to confirm you've exhausted all possibilities or resolve any uncertainty. Definitely connect with a lawyer prior to renting if your Strata and you have differing opinions as to your eligibility to rent out your condo. It's better to consult a lawyer first than need one to fix an issue later.
Enjoy the read!
1. The Developer's rental disclosure statement
The Developer will likely have registered a rental disclosure statement. If you're not the original owner, you should have a copy in the strata documents you received when you purchased the home. If you bought directly from the developer, you may have more than one version so make sure you're referencing the version in force. If you can't locate a copy, reach out to your strata manager or realtor to get one.
That said, Mike Mangan notes in The Condominium Manual that if the original disclosure is filed prior to January 1, 2010 , but revised after that date, it's still treated as having been registered prior to January 1, 2010 (the significance of this date is noted below).
The disclosure will identify which units the developer may rent out and for what timeframe. Developers usually reserve the right to rent any of the condos until quite some time in the future to provide themselves with the most flexibility. This can benefit you as well.
Image: Excerpt from a rental disclosure statement showing that this developer reserves the right to rent all 146 units in this building for 100 years.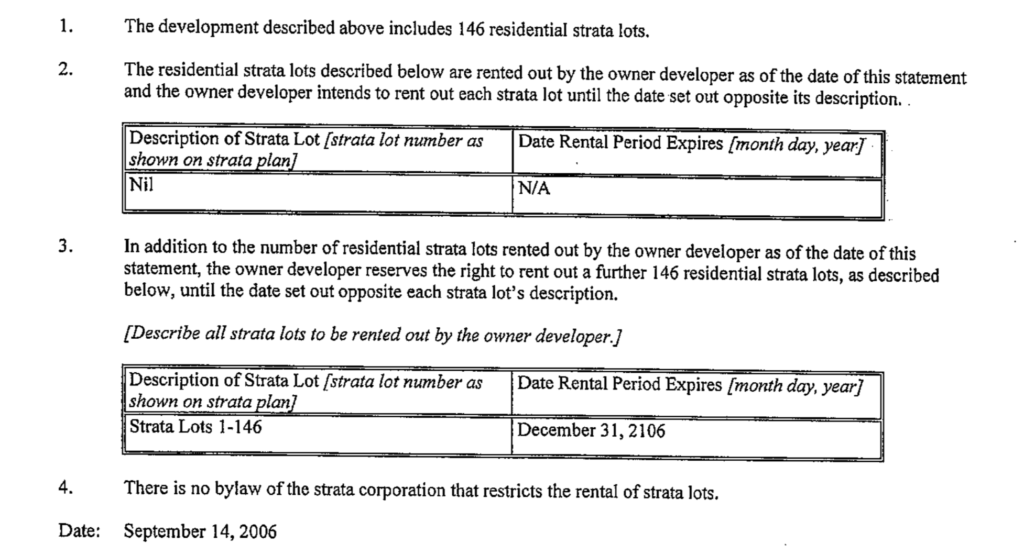 You may be able to rely upon the rental disclosure statement for your building to rent out your condo despite a rental restriction in the bylaws. Doing so depends on when the disclosure was registered, whether it lists your specific condo (strata lot), and if you're the first owner (purchased the unit from the developer) as follows:
Registered prior to January 1, 2010 – If you bought your condo directly from the developer and your strata lot is noted on the disclosure, you should be able to rent out your condo until the expiry of the rental period. This right doesn't extend to subsequent owners.
Registered January 1, 2010, or later – If your strata lot is noted as one with the potential for being rented, no rental restriction will apply for the duration of the rental period on the disclosure. This is regardless of whether you're the first owner or not. In the image shown above, all owners in that building can rent out their condos until 2106 or essentially for the lifespan of the building. Your building probably allows rentals if it was constructed after January 2010.
References:
2. Grace period for newly enacted rental restrictions
Should owners vote to enact a rental restriction, you have a 1 year grace period prior to the bylaw impacting the use of your condo. If you're living in the unit, the 1 year grace period starts when the bylaw is enacted. If the unit is rented, the 1 year grace period begins when your current tenant moves out. In either case, once the 1 year has lapsed, the unit can no longer be rented under this option. However, you may be able to employ one of the other options to rent out your condo.
If you choose to rent out your condo, take care to ensure you'll no longer be renting the unit when the restriction takes affect. Employing a fixed-term tenancy and issuing a Notice to Vacate to your tenant when timely is likely sufficient.
References:
3. Rentals to immediate family
Regardless of the building rental bylaws, the BC Strata Property Act allows you to rent your condo to:
your spouse,
your parent or child, or
a parent or child of your spouse.
The definition of spouse includes someone who has lived with you for at least 2 years in marriage-like relationship.
References:
4. Hardship rentals
While this originates in the BC Strata Property Act, your Strata Council still plays a role. If you believe a rental restriction causes you hardship, you can make a written request to your Strata Council to be able to rent out your condo. Your request must detail the reason you think an exemption is necessary and whether you'd like to meet with your Strata Council in-person to present your case.
Be sure to include the required content in your written request to avoid restarting the clock when tracking the below timeframes for automatic permission. While you may have submitted a complete request, according to Mangan's review of case law in The Condominium Manual, a Strata Council can request financial statements to support any claim of hardship.
The Act directs the Strata Council to 'not unreasonably refuse to grant an exemption.' Furthermore, you're automatically deemed to have been granted permission for a hardship rental if the Strata Council:
doesn't respond to you in writing within 1 week of a hearing,
doesn't respond to you in writing within 2 weeks after receiving your application (when you didn't request a hearing), or
doesn't hold a hearing within 4 weeks (provided you requested one).
A further power of the Council is that they can specify a time limit for a hardship rental.
As you may anticipate, this is not an exact science and I've seen the full spectrum from denied requests through to the granting of repeated requests over consecutive years.
References: 
5. Strata rental waitlist
The Strata may have a waitlist of owners that want to rent when the maximum number of allowed rentals has been reached. The common practice is to offer an available rental spot to the first owner on the list. Typically, that owner then has a certain period of time to secure a tenant and, if they fail to do so, they lose the right to rent and that rental spot is then offered to the next owner on the list.
In projecting the time required to work through a waitlist, consider how many units can be rented, how often new rental spaces arise, and the length of the waitlist. Although past performance isn't guaranteed to continue in the future, it'll help inform your gut feeling. I wouldn't be optimistic for your ability to soon rent out your condo if there are 10 rentals allowed, 30 units on the waitlist, and approximately 3 rental opportunities arise per year.
6. Add the occupant to the property title
Approach this option with caution and I strongly suggest only adding another person to title once a written agreement is in place. This option worked beautifully when I worked with an aunt purchasing a condo for her nephew. As I knew there may be opportunities should they prefer a no-rental building, we included these buildings in their search. Sure enough, they selected a home in a building that doesn't allow rentals.
The aunt – nephew relationship isn't recognized under the family exemption noted in section 2 above. Consequently, I connected them with a lawyer experienced in Stratas to review their options and they opted to add the nephew to the condo title with a 1% ownership share. He's happily lived in the condo for 7 years and he and his aunt (and I) have enjoyed peace of mind the entire time.
7. Sell the property
If you've exhausted all avenues for renting out your condo without luck, the next step is to evaluate the pros and cons of owning a vacant property. Among your considerations will be how much you like the condo, your ability to secure a similar condo again, its current market value, and your carrying versus selling costs. If the pros prevail, you can choose to retain the condo. Alternatively, you can opt to sell the condo if the cons prevail.
I often help clients weigh the pros and cons for selling and am happy to do so with you. If you decide to sell, I'd also appreciate the opportunity for us to chat about how we'd work together to achieve your goals. As a sales effort… I work with partners and managing partners of law firms, recruiters (people whose careers are based on hiring the right people), and business owners. That said, I also work with people who otherwise identify. I enjoy working with all of my clients and each receives the level of service usually reserved for what we consider to be the 1%.
References:
8. Contravene the rental bylaw
It's not unusual to encounter a condo being rented out in contravention of strata bylaws. Personally, I support people taking advantage of the legal options outlined above as they've available to everyone. In buying in a specific building, each owner has agreed to live according to its particular flavour and that includes any rental restrictions. I view renting a condo illegally as unfair to other owners.
As noted in this previous post (link), the Strata Property Regulation provides every Strata tools towards encouraging owners to observe bylaws. The primary 'stick' is fines of up to $500 for contravening a bylaw that prohibits or limits rental, which can be reissued every 7 days for a continuing offence. The amount climbs to $1000 for contravening a bylaw that limits short-term rentals and this fine can be reissued daily for a continuing offence.
When discovered, the cost of an illegal rental can quickly accumulate and some particularly problematic owners have found themselves in court. Their financial pains may worsen if they have to break an agreement with their tenant.
Reference:
I hope this identified a legitimate rental option new to you and streamlines your working with your Strata. As always, I welcome your questions and comments.
Best,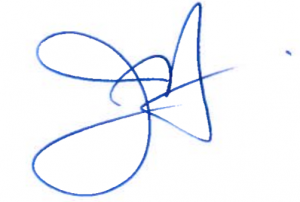 Jason Hutchison
604.314.7138    [email protected]
Title image: The Erickson, 1560 Homer Mews, Vancouver (read the building review and see listings and floorplans)
Looking for more blog posts?